Wireless Internet Antennas
Product Announcement from Comtelco Industries, Inc.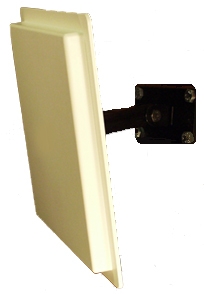 Comtelco is a great source for Wireless Internet Service Providers. The B262414PW-SM is a recommended choice for WLAN applications. This antenna is the style many providers have chosen for use in hotels and high rise buildings. It allows the signal to be effectively transmitted throughout the building to provide excellent coverage for the occupants.
The B262414PW-SM comes with a swivel mount. This allows the installer the flexibility to mount the antenna and then make adjustments as necessary. Many times the ideal place for the antenna is in the corner of a ceiling. This can pose a problem for many other antennas, but not the B262414PW-SM.
In addition to the indoor applications described above, the Comtelco panel antennas are built for outdoor applications as well. They have UV inhibited ABS covers with epoxy powder coated aluminum mounting plated. These are very durable antenna with the flexibility to use anywhere.
The B262414PW-SM operates at 2.4 - 2.5GHz and is available at other frequencies. It produces 14dBi of gain in this configuration, and is available with more or less gain as required.
---