Ultra Mini SIP from Comus International
Featured Product from Comus International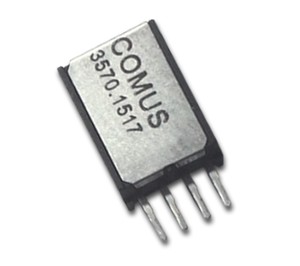 Comus International is proud to introduce the 1517 series Ultra Mini SIP reed relay with a PCB footprint 75% smaller than the industry standard SIP relay.
The new 1517 series offers the same 10 Watt power ratings as the full size SIP with a 1 Amp carry current and 170 VDC switching voltage.
The 1517 Ultra Mini SIP exclusively uses the Comus Technology B.V. reed switch with sputtered ruthenium contacts for high reliability and stable contact resistance.
The 1517 series offers a standard external magnetic shield over a rugged molded thermoset package, optional coil suppression diode and is RoHS Compliant.
The 1517 series has a standard lead time of 8 to 10 weeks. Prices start at $4.40 for 1,000 pieces. Detailed datasheets are available on Comus International's website www.comusrelay.com. For further inquiries regarding the 1517 series please contact Comus Relays and Senors RI at 401-830-2100.