BFH Series Relays from Comus Group
Featured Product from Comus International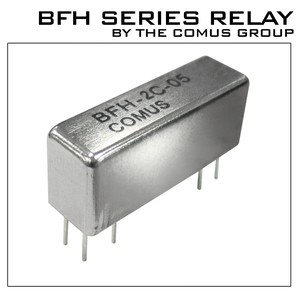 Comus International is proud to introduce the BFH series of high reliability instrumentation grade multi-pole reed relays. The 2 Form A, 3 Form A and 2 Form C configurations are ideal for use in new high contact density load board designs used in automatic test equipment.
The new BFH series takes practical advantage of Comus' vertical manufacturing capabilities. Our Comus Technology BV ( ) sputtered ruthenium reed switches are used exclusively and allow for the quicker lead times, superior quality, stable contact resistance and the very best in reed relay performance.
The BFH series are RoHs Compliant built with industry standard footprints and 5 and 12 VDC coil specifications for drop-in replacement when refurbishing and servicing ATE load boards. Custom coil and pin-outs are also available.
The BFH Series have a standard lead time of 6 to 8 weeks. 100 quantity prices start at $5.25 for the 3 Form A (BFH-3A-05) and $8.00 for the 2 Form C (BFH-2C-05).