High Voltage Reed Relay 1000V Switching Voltage
Featured Product from Comus International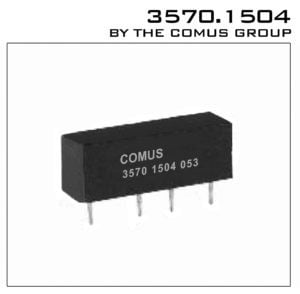 We at the Comus Group of Companies are excited to announce the release of the new 3570.1504 series of high voltage reed relays. These relays are ideal for automotive applications such as electric vehicles (EVs) battery packs testing.
The Comus 3570.1504 series relays use the Comus Technology B.V. (Coto Technology®) reed switches with sputtered ruthenium contacts for high reliability and long life. The 1504 series have a standard internal magnetic shield to limit magnetic interactions. Our 3570.1504 relays feature a breakdown voltage of 3000V and a switching voltage of 1000V. We offer optional coil suppression diodes to help protect coil drive circuits.
The 3570.1540 prototypes will be available in the Q4 2021 with production in Q1 2022. Pricing for the quantity of 1000 relays starts at $6.50 each.