10 Tips for Accurate Thermocouple Measurement
Featured Product from Conax Technologies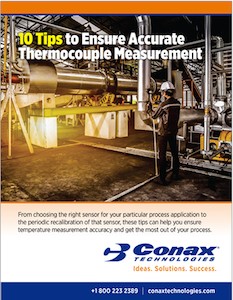 10 Tips to Ensure Accurate Thermocouple Measurement
Careful selection and installation of temperature sensors can ensure accurate performance, which improves sensor quality and production efficiency. Conax Technologies has identified 10 key factors for ensuring you get the most reliable temperature measurement in their "10 Tips to Ensure Accurate Thermocouple Measurement" brochure.
From choosing the right sensor for your specific process application to the periodic recalibration of that sensor, these tips can ensure sensor accuracy and help you get the most out of your process.
Download the brochure.
Visit the Conax Technologies website to see all our innovative temperature sensing solutions.