Cable Gland for Hazardous Locations
Featured Product from Conax Technologies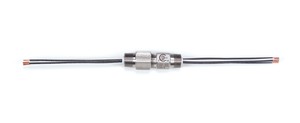 The Conax Technologies HL Glands are suitable for gas or liquid, feature a Grafoil® sealant, come in two sizes (small 1/2" NPT and large 3/4" NPT), provide a temperature range from -4°F to 130°F (-20°C to + 55°C), and have a pressure rating of 500 psig.
This sealing gland is designed to replace Chico® and other similar conduit sealing compound fittings commonly used in hazardous environments. With a mechanically-sealed Conax Technologies HL gland, companies will not have to be concerned about:
cracks in compound sealants or incorrectly installed compound sealants that allow explosive gases or liquids to leak in the conduit system, or
migration of explosive gases through stranded conductors due to a pressure differential in the conduit system.
Both situations have the potential for explosive gases or liquids to cause corrosion to instrumentation or, even more problematically, to ignite when in the presence of instrumentation, causing damage to property and possible injury to people.

Play Cable Gland for Hazardous Locations Video