Conax Power compression Seal Feedthrough (EG)
Featured Product from Conax Technologies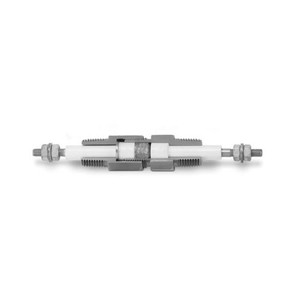 Conax Technologies Model EG (Electrode) Glands are designed to conduct rated amperage through vessel walls for applications such as vacuum furnaces, autoclaves, transformers, power supplies and other vessels requiring a sealed environment. EG glands also electrically and/or thermally isolate single electrodes, tubes, temperature sensors and liquid level probes in pressure/vacuum applications. These bare electrical feedthroughs seal against gases and liquids and resist element movement under pressure.
EG gland bodies with NPT threads or SAE threads are constructed from 303SST standard.Weld-neck style glands are constructed from 316LSST. Caps and followers for all styles are constructed from 303SST. Many optional materials are also available. See page 9 for details. Cap Style A offers a mounting thread only. Cap Style B provides threading on both ends for attachment to conduit or terminal heads. Alternative sealant materials are available. Please consult a Conax Technologies sales engineer for custom needs.
Conductors are available in Copper, Nickel and 303SST. Use of Nickel rather than Copper is recommended in oxidizing atmospheres. Learn more.