Custom Temperature Sensors
Featured Product from Conax Technologies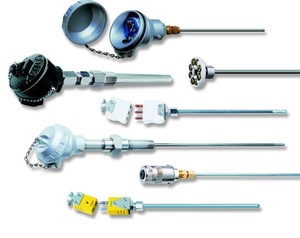 Temperature Sensors
Conax Technologies built its reputation on exceptional engineering capabilities and dedication to a thorough understanding of all aspects of temperature sensor measurement. That tradition continues today, with a full complement of engineering, test, quality assurance and calibration services available in our state-of-the-art manufacturing facility.
Conax Technologies engineers welcome the opportunity to discuss and develop solutions to challenging applications. In addition, we offer the latest technology in test equipment for prototyping and design to assist in development of new solutions to customer problems.
This dedication to excellence is also a foundation of our quality assurance program. Raw materials for critical components are thoroughly tested prior to assembly, and all temperature sensors, RTDs and thermocouples undergo rigorous electrical inspection before shipment.
Conax Quality Assurance programs conform to ISO 9001/ANSI/ASQC Q9001:2000, MIL-I-45208A and MIL-I-45662 standards for the design and manufacture of temperature sensors, mineral insulated cable, and pressure vaccuum sealing devices. Specific tests may be ordered by a customer to meet application standards.
Our in-house capabilities include:
• Temperature Sensor Calibration
• Time Response Testing in accordance with ASTM E644 methods and procedures
• X-Ray and Liquid Dye Penetrant Non-Destructive Testing
• Thermowell Analysis to ASME Performance Test Code 19.3
• Vibration Testing
• Hydrostatic & Pneumatic Pressure Testing
• Helium Mass Spectrometer Leak Testing
• Temperature/Humidity Chambers
• Dimensional & Optical Gauging Systems
Calibration Services
While all Conax temperature sensors are designed to perform accurately, calibration can often be useful in ensuring that your system will provide the most accurate output possible at a given temperature point. Calibration services report the actual deviation of a specific sensor at a given temperature within the allowable limits of error. This improves the overall system accuracy by providing the data to subtract out the sensor error. As sensor characteristics change over time due to aging, mechanical working and effects of environment, periodic recalibration is essential to re-establish the known deviation and ensure that your sensor system continues to provide accurate data.
Conax Technologies can precision calibrate your temperature sensors, thermocouples, RTDs and thermistors, alone or in assemblies, using industry accepted comparison techniques in a modern, environmentally controlled calibration lab to the following specifications:
• Calibration to NIST traceable standards
• Calibration methods and procedures complying with ASTM E220 and E644
• Calibration ranges:
-30° F to +3000° F (-34° C to +1650° C) (For lower temperatures, consult factory)
-320° F (-195.8° C) (Boiling Point of Liquid Nitrogen)
For 900° F or higher, the minimum probe length is 18 inches.
• Temperature control methods include highly stable liquid baths, fluidized powder baths or electrically heated tube furnaces.
Reports
Detailed calibration reports are provided for each test temperature, indicating the temperature of the unit under test, the temperature of the calibration standard, and the allowable deviation vs. the actual deviation. For RTDs, a resistance vs. temperature report based on the Callendar Van Dusen equation can be provided. This report specifies the temperature vs. resistance characteristics specific to the RTD under test when the sensor is calibrated at a minimum of three points. Each report is certified by highly trained quality and is maintained on file for future reference.