Cable & Harness Assemblies for Aerospace
Featured Product from Conax Technologies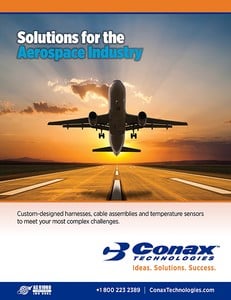 Cable and harness assemblies and temperature sensors for the aerospace industry
For more than 70 years, customers in the aerospace industry have counted on Conax Technologies to provide standard and custom-designed solutions to their most complex challenges.
We've developed a summary brochure with an overview of the temperature sensors and cable and harness assemblies Conax designs and manufactures specifically for the aerospace industry.
Download our aerospace solutions brochure.
Engineering expertise to solve your most complex challenges
Conax works directly with industry leaders to custom design, build, test, and deliver high-quality cable and harness assemblies and temperature sensors for a wide variety of engines and applications, including:
Vibration cables for the CF6 80 Series engine
Mineral insulated cable
Cables for NEO 320 engines
Cable assemblies for large Frame ground-based turbines
Brake temperature system thermocouples
Cabin/Fuselage Thermistor temperature sensors
Combination Compressor temperature and pressure pickup sensors
Exhaust gas temperature probes for CFM-56 engines
APU air inlet RTDs
Inner turbine temperature sensors
Click here for more details on all of Conax Technologies' solutions for aerospace.
A commitment to quality
AS9100 with ISO 9001:2015 certification assures documented process control as we build parts for a wide variety of critical aerospace components, including engines, airplane brakes/landing gear, and cabin/fuselage applications.
Nadcap (National Aerospace and Defense Contractors Accreditation Program) accreditation, signifying our operations meet AC7121 audit criteria for electronics in the manufacture of cable and harness assemblies.
ISO/IEC 17025:2017 accredited and AMS 2750F compliant calibration lab signifying Conax is fully competent to produce valid and reliable temperature calibration results.
Find out more
Visit our website to learn more about our customized solutions, view our video, or contact us to find out more.