Furnace and Autoclave Sealed Feedthroughs
Featured Product from Conax Technologies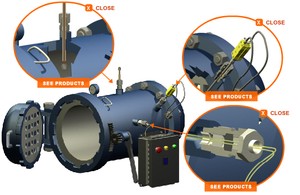 Conax Technologies sealed feedthroughs and compression seal fittings have proven to be the industry leaders in quality and performance. We are the originators of soft sealant technology that, when combined with mechanical compression, results in a remarkably secure seal on wires, probes, and electrodes passing through a pressure or environmental boundary. The solutions listed below are commonly used products for the Furnace and Autoclave Industry. If you have a custom need, visit our case studies section or simply give us a call and we will provide a solution for your application.
Feedthroughs with Factory Installed Lead Wire
(available in Copper or Thermocouple Wire)
General Purpose Instrument Lead (TG - 24T)
2 - 24 Wires #24 AWG Teflon Insulated
Temperature Range: -300º to 450º F (-184º to 232º C)
Vacuum to 8,000 PSI (551 Bar)
100 VDC Rated
High Temperature Instrument Lead Feedthrough (TG - 24F)
2 - 24 Wires #24 or #20 AWG Fiberglass Insulated
Temperature Range: -300º to 1,400º F (-184º to 760º C)
Vacuum to 300 PSI (21 Bar)
Instrument Level Signals: 10 VDC Max
High Pressure Ruggedized Feedthrough (PL)
1 - 18 Wires #20 to #8 AWG Kapton Insulated
Temperature Range: -300º to 450º F (-184º to 232º C)
Vacuum to 10,000 PSI (689 Bar)
600 VDC Rated
High Density Wire Feedthrough (HD)
12, 24, 40, 60 Wire Feedthroughs #24AWG Teflon Insulated
Temperature Range: -112º to 250º F (44º to 121º F)
Vacuum to 5,000 PSI (345 Bar)
Feedthroughs without Factory Installed Lead Wires
*Operating Temperatures: - 400º to 1600ºF (-240º- 871ºC)
Vacuum to 10,000 PSI (689 Bar)
Multiple Probe or Wire Seal Fitting
For multiple probes or wires .020" through .125" (.508 - 3.175 mm) Diameter (MHC)
For maximum capacity of probes or wires and custom sizes (MHM)

Seals for Sensors including Vibration Sensors, Humidity Sensors, Pressure Sensors, Control Senors, etc.
Single probes or sensors (PGS)
Multiple probes or sensors (SPG)
All Feedthroughs Available with Mounted Flanges
Conax Technologies provides many flange styles to match your mounting requirements. Flanges are available in variety of materials including 304SST and 316SST.
Alternate materials and grades available.