High performance compression seal fittings
Featured Product from Conax Technologies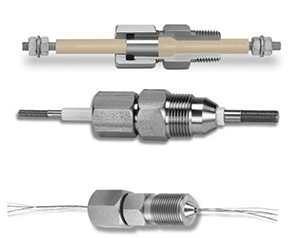 Seals for high pressure applications
Conax Technologies manufactures high pressure seals for electrodes, instrument signal wires and temperature sensor leads. High pressure seals are designed for installation onto the pressure vessel wall using threaded mounting configurations. A 1/2" NPT thread or 'B Cap' can be added to the HEGPK and HPPL assemblies to allow for mounting to a terminal box or other type of enclosure. These assemblies feature body and caps constructed from high strength 316SST.
These products are for high pressure applications; please contact Conax directly if you need to seal on other elements within different environments. The following are examples of typical fittings or feedthroughs we offer for high pressure applications.
High performance electrode seal fitting (HEGPK)
Single Piece PEEK™ Insulator/Sealant
For high pressure/voltage applications
Up to 7,700 PSI (531 Bar) @ 68°F (20°C)
Voltage Rating: 8000 VDC
Amperage to 200 Amps
Available with or without conductor
Available in .125", .187", .250", .375" & .500" diameter conductors
View our brochure for details on Conax high performance electrode seal fittings
High pressure electrode compression seal feedthrough (HPEG)
Up to 20,000 PSI (2067 Bar) at 68°F (20°C)
Conductor available in copper, stainless steel, or nickel
Voltage Rating: 2000 VDC
Amperage Rating to 60 Amps
High pressure instrumentation wire compression seal feedthrough (HPPL)
Seals on Kapton® insulated wire
Up to 30,000 PSI (2069 Bar) at 68°F (20°C)
Available with 24 & 26 copper or 24 AWG Type K thermocouple wire
Download our brochure to learn more about Conax Technologies' high pressure solutions.