Miniature bearing sensors (embedment RTDs)
Featured Product from Conax Technologies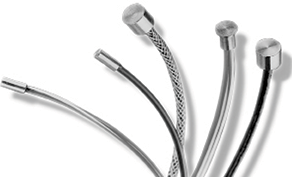 Embedment RTDs and thermocouples
The bearings of industrial rotating equipment operate under arduous conditions—often for considerable periods of time. The most reliable indicator of bearing condition is the temperature of the metal beneath the shoe.
Recognition of rising temperature can provide a warning of the breakdown of the lubricating oil film, allowing machine shutdown and maintenance to take place before catastrophic failure of the bearing and possible damage to its mounting. Conax miniature bearing sensors provide a simple and cost-effective method to monitor bearing temperatures.
Features:
Ideal for embedded applications in rotating machines
RTDs – 100 ohm platinum, 0.00385 ohm/ohm/°C
Thermocouple types J, K, T & E
Single and duplex sensors
Various styles and sizes
Specifications:
Temperature Range: -40 to 230°C (-40 to 446°F)
Case Materials: 316 SS, copper, nickel plated copper, tin plated copper, brass
Lead Wires: Stranded silver-plated copper conductors with PTFE insulation and optional stainless steel overbraid
Time Constant:0 sec. (Style A) to 1.5 sec. (Style D), typical value in moving water (3 ft/sec) insulation resistance: 10 megaohms min. at 100 VDC, leads to case (RTD); 10 megaohms min. at 100 VDC, ungrounded only (T/C)
Bearing sensor wire seals (BSWS) prevent oil leakage
Conax Technologies' BSWS assemblies were originally designed for use with embedment bearing temperature sensors to prevent oil migrating along the sensor leads. They seal on the individual insulated leads exiting an oil-filled bearing house. They may also be used to seal all types of insulated instrumentation lead wire. These sealing assemblies can be found in large motors, generators, turbines, pumps, compressors and journal bearing pedestals.
Construction consists of 303SST for metallic parts and a sealant made from 'Viton'. Standard assemblies seal 2 to 14 wires in a variety of wire gauges. Please consult Conax Technologies for custom needs.
Temperature range: Ambient to +100° F (+37.8° C)
Pressure range: to 50 psig (3.4 bar)
The replaceable sealant permits repeated use of the same fitting. Elements can be easily assembled or replaced in the field. To replace the sealant or elements, simply loosen the cap, replace the necessary items, relubricate and retorque the cap.
Download our miniature bearing temperature sensors brochure.