Pressure and vacuum sealing assemblies
Featured Product from Conax Technologies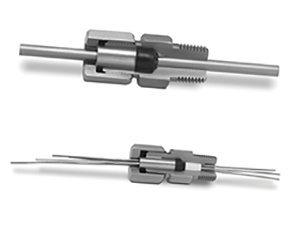 Solutions for a broad range of applications and industries
Conax Technologies manufactures a complete range of pressure and vacuum seal fitting assemblies to carry probes, sensors, wires, electrodes and other elements, satisfying diverse application requirements across a broad spectrum of industries.
The plastic deformation of a sealant material within a fixed housing is the fundamental concept of the Conax sealing technology. The application of this concept, with a thorough understanding of the behavior of sealant materials, has resulted in a range of assemblies with unequalled adaptability.
There are many ranges of pressure and vacuum seal fittings and a number of assemblies that are configured for specific applications (i.e., bearing sensors, multiple wires, optical fiber feedthroughs).
Conax Technologies' soft sealant technology
The five standard soft sealant materials used in Conax seal fittings are Neoprene, Viton, PTFE, Lava and Grafoil. When an element (e.g., probe, sensor, electrode) is inserted in a fitting and the cap is torqued to the recommended setting, the torque on the cap translates an axial force on the follower which compresses or crushes the sealant that is contained within the body, thus creating a seal on the element. Tension in the body acts as a spring to maintain compression; friction between the sealant and the element restrains the element from moving under pressure or vacuum.
Temperature and pressure ranges
Conax seal fitting assemblies can be specified for use over a temperature range of -400°F (-240°C) to 1600°F (+870°C) and for pressures from vacuum to 35,000 PSI (2400 bar), according to the type and size of fitting and the sealant material selected.
Features at a glance:
Are used when probes and other elements must pass through a pressure or environmental boundary.
Maintain the integrity of the seal at the point of feedthrough penetration.
Employ soft sealant technology so probes can be adjusted, removed and replaced yet are not deformed during installation.
Satisfy pressure, vacuum and environmental sealing applications in many industries—from process control and power generation to semiconductor fabrication and steel production.
Frequently reduce the overall cost of ownership—compared with other sealing techniques—through reductions in installation time, downtime, and the cost of replacement parts.
Unlike many conventional compression fittings or glands, Conax fittings can carry multiple elements (e.g., probes, wires, electrodes) in a single fitting assembly.