Profile Thermocouples
Product Announcement from Conax Technologies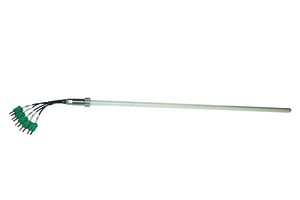 Conax Technologies manufactures profile thermocouples which are used in diffusion and oxidation furnaces. Choose from one of our standard designs for either vertical or horizontal type furnaces, or we can work with you on a new or customized version.
Profile thermocouples are available in the following calibration types:
Platinum-Rhodium noble metal calibrations: Type B, Type R and Type S
Base metal calibrations: Type K and Type N wire size
Standard wire sizes are 0.020" (0,5mm) and 0.010" (0,25mm)
Optional size 0.012" (0,30mm) also available.
The production of Conax profile thermocouples takes place in a separate, dedicated production area within our in-house production facilities to ensure the sensors that are installed inside your furnace are clean and will not be a source of contamination. Our technicians wear lint free elastomeric gloves when handling the components and the finished assemblies. The manufacturing process takes place on laminar flow tables to further minimize particles that might contaminate our customers' furnace or product.
---