Spring Loaded Exhaust Gas Sensor
Featured Product from Conax Technologies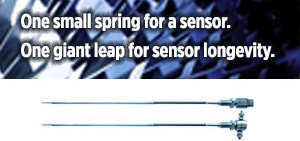 Eliminate premature sensor failures
Conax Technologies' Spring Loaded Exhaust Gas Sensors are built to withstand vibrations caused by gas flows, input vibrations and thermal expansion mismatch from 7F and 9F turbines.
Available exclusively from Conax, these patented sensors have a high temperature compression spring that is inserted between two spacer tubes.
Find additional product details and benefits on the Conax website.