Model HP Servo Drive
Product Announcement from Cone Drive Gearing Solutions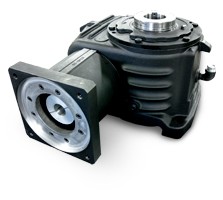 Introducing the NEW Model HP servo motor adapter designed to make the mounting of a servo motor easier.
As servo motor capacity increases, Cone Drive is meeting the needs of the market place by offering reducers capable of higher torque demands. Only in the Model HP will you get true double enveloping worm gear technology, unsurpassed in the market where both performance and positional accuracy are demanded.
Model HP Specifications
Please find below a brief summary of the new Model HP servo drive product specifications.
Center Distances: 3.00", 3.50", 4.00", 5.00", 6.00", 7.00" and 8.00"
Servo Motor Frames: Up to 315mm square
Output Torque: Up to 120,500 lb-in (single reduction)
Gear Ratios: from 5:1 to 70:1 in single reduction and up to 3,600:1 in double reduction
Multiple levels of backlash from Zero to 15 arcminutes
Multiple output options: Solid / Hollow / Shrink Disc
---