Blender for Dry Food Grade Powders
Featured Product from Continental Products Corp.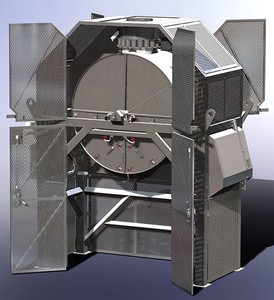 Food Grade Dry Blending - Superior Uniformity & Clean-Out
This Mk VIII Rollo-Mixer® from Continental Products Corp. was designed for food grade dry blending. Combining the gentle uniformity of rotary drum mixing, along with superior clean-out capabilities to that of common Vee, cone and ribbon blenders. Made from stainless steel construction, it has 33 cu ft. of working load volume and is more versatile - as loads may vary from 200 to 1,500 lbs, depending on product density. Dietary supplements, nutritional additives, sports drink powders, and many more, are uniformly blended @ 4 rpm, in 2 to 5 minutes, requiring only 5 horsepower. Discharge is quick and complete. The touch screen interface with full graphical representation of the operation, Continental has been developing the rotary drum Rollo-Mixer ® for over 56 years. Today, the Rollo-Mixer ® is manufactured in six different versions for hundreds of applications world-wide.
Watch>>>Blending Dietary Supplements & Vitamin Powders - Rollo-Mixer ® Mk 8 Batch Mixer Video Series
Watch>>>Continental Products introduces the NEW Rollo-Mixer ® Mk 8 Batch Mixer
Watch>>>Dry Blending Nutritional Supplement Powders Uniformly in the Rollo-Mixer batch mixer
Check out our Video Library
Visit Our Facility and Test Your Products
Continental's product testing facility has accommodated more than 2,000 blending and coating trials over many decades. Our test facility is equipped with a variety of Rollo-Mixer® test models, liquid spray systems and heating and cooling capabilities. Companies that visit us can test their products utilize utilize one of 6 versions of the Rollo-Mixer®. Visibility is a key factor in helping us learn how products behave and adapting our coating technology to suit the application. Continental is able to share their years of experience testing a wide variety of products, helping accelerate the transfer from development to production. Scale up is 1:1 from pilot to production.
Discover Our Rollo-Mixers
Continental Products currently designs and manufactures six, distinct rotary drum mixers, known as Rollo-Mixers. We recognize that one rotary drum design is not absolutely ideal for every application. Which is why we engineer several, versatile, rotary drum batch mixers with unique capabilities and advantages across hundreds of applications. Each design has unmatched capabilities to optimize a wide variety of batch mixing, blending and coating processes. We are committed to relentlessly improving the Rollo-Mixer®, to provide exceptional operating performance for our customers and their finished products
Connect to our LinkedIn company page, Google + page, or our You Tube channel - which has over 60,000 views.
A World Leader in Rotary Drum Mixing,Blending & Coating Technology
Continental Products Corp. specializes in industrial rotary drum mixing, blending and coating equipment - known as the Rollo-Mixer®. Since 1960, we have been working directly with our customers every step of the way to provide them with innovative, proven solutions in mixing, coating and batch process. Our persistent engineering, expertise and development, have been delivering exceptional results for many top performing manufacturers. As a result, the Rollo-Mixer® and Continental, have become an authority for a multitude of leading edge products across a large variety of industries