Controlled Release Fertilizers Made in the Mk IX
Featured Product from Continental Products Corp.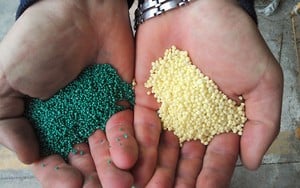 The Mk IX Rollo-Mixer® Batch Coater
The Mk IX Rollo-Mixer® Batch Coater was originally designed to evenly spray two-part polymer epoxies, resin and hardeners onto a wide range of substrates — from sand to 40 mm spheres. Today's leading manufacturers of polymer coated slow release fertilizers use the Continental Rollo-Mixer Mk IX Batch Coater for even dispersions of two-part polymers onto a wide variety of fertilizer substrates. Microfilm layers are uniformly applied to the entire surface area of urea, mini urea, and NPK fertilizer products. It has a different coating/mixing action that creates a dynamic rolling bed compared to traditional Rollo-Mixers, which create rivers of material that constantly divide & combine. The Mk IX batch coater is available in both pilot and production size units.
The Mk IX rotary drum coater has a design that is ideal for: controlled release fertilizers, polymer coated fertilizers, biological growth enhancers, micro-layering EPS spheres, agricultural chemicals, pest control products, larvicide and other substrates to be coated with difficult-to-spray liquids.
Batch coating
Available in 10 sizes, from 3.5 to 297 cu ft.
Premier batch coater for slow release fertilizers
Ability to heat, coat & cool various substrates
Pilot & production coaters available
Batch to batch reproducibility
Visit Our Facility and Test Your Products
Continental's product testing facility has accommodated more than 2,000 blending and coating trials over many decades. Our test facility is equipped with a variety of Rollo-Mixer® test models, liquid spray systems and heating and cooling capabilities. Companies that visit us can test their products utilize utilize one of 6 versions of the Rollo-Mixer®. Visibility is a key factor in helping us learn how products behave and adapting our coating technology to suit the application. Continental is able to share their years of experience testing a wide variety of products, helping accelerate the transfer from development to production. Scale up is 1:1 from pilot to production.
Discover Our Rollo-Mixers
Continental Products currently designs and manufactures six, distinct rotary drum mixers, known as Rollo-Mixers. We recognize that one rotary drum design is not absolutely ideal for every application. Which is why we engineer several, versatile, rotary drum batch mixers with unique capabilities and advantages across hundreds of applications. Each design has unmatched capabilities to optimize a wide variety of batch mixing, blending and coating processes. We are committed to relentlessly improving the Rollo-Mixer®, to provide exceptional operating performance for our customers and their finished products
Check out our Video Library
Connect to our LinkedIn company page, Google + page, or our You Tube channel - which has over 60,000 views.
A World Leader in Rotary Drum Mixing,Blending & Coating Technology
Continental Products Corp. specializes in industrial rotary drum mixing, blending and coating equipment - known as the Rollo-Mixer®. Since 1960, we have been working directly with our customers every step of the way to provide them with innovative, proven solutions in mixing, coating and batch process. Our persistent engineering, expertise and development, have been delivering exceptional results for many top performing manufacturers. As a result, the Rollo-Mixer® and Continental, have become an authority for a multitude of leading edge products across a large variety of industries