Cutting Edge Scientific Units
Product Announcement from Continental Scientific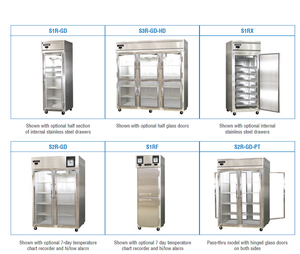 Cutting Edge Scientifc Units For Real World Applications
New adjustable electronic controls have been rolled out for all models. Continental's modern styling, and 3 inch. insulation, among dozens of optional features put us in a closs of our own. Our top mount "modular" refrigeration system can be removed for cleaning, service, or converting from a refrigerator to freezer in the field.
Continental Scientific, a division of National Refrigeration & Air Conditioning Products Inc. is a leading manufacturer of commercial refrigeration in the life sciences and industrial markets. Our full line of general purpose reach-in and pass-thru refrigerators and freezers include both solid and glass door models; chromatography units; automatic electric defrost and manual defrost models. All of our products are environmentally safe utilizing CFC-Free refrigerants in both refrigerators and freezers. We've built our reputation on service and quality.
As the life sciences and industrial markets needs change and evolve, Continental Scientific can quickly develop customized equipment packages designed specifically for individual project and lab applications. Knowing what our customers need is essential to our mission to successfully meet the needs of the scientific and industrial laboratory markets. Your satisfaction is Our Number One Priority!
---