New Line -Features Patented Fluorinetic Technology
Product Announcement from Contour Energy Systems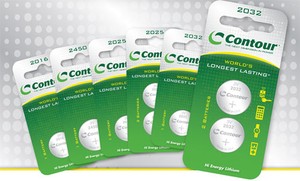 Contour's Next-Generation Lithium Coin Cell Product Line Features Patented Fluorinetic Technology
Published on January 5, 2011 at 2:02 AM
Contour Energy Systems, Inc. an innovative portable power company commercializing next-generation battery systems, today announced the launch of its next-generation coin cell product family with the introduction of the four top selling lithium coin cell sizes (2032, 2025, 2016 & 2450) featuring the company's patented Fluorinetic™ technology.
Contour's new lithium coin cells, which deliver significantly longer battery life and superior gravimetric and volumetric energy density compared to legacy primary lithium and rechargeable lithium ion batteries, are targeting a wide range of existing and emerging portable electronics and drug delivery systems.
The new products will make their debut the Consumer Electronics Show January 6-9, in Las Vegas at Contour Energy's Booth 15343 in the Central Hall. Contour also will exhibit its high-performance 2025 and 2032 coin cells specifically designed for 3DTV active shutter glasses for 3DTV movies, programming content and gaming.
"Packing more power into coin cells involves 'tuning' the cathode to optimize power density for specific applications," said Joe Carcone, vice president of sales and marketing with Contour Energy Systems. "Our Fluorinetic technology stands alone in this capability. By altering how fluorine is introduced into the carbon structure at the molecular level during the manufacturing process, the fundamental properties of our coin cells can be changed in ways that favor higher power densities to better match a particular application."
Contour's new coin cell products will be available for a broad range of applications, including:
Hand held portable consumer electronics devices such as translators
In-home health care equipment including glucose monitoring systems, drug dispensing systems and bone growth stimulators
LED lighting systems and flashlights
Calculators
Keyless entry systems
Small battery packs
Cameras and light meters
Construction laser levels
Toys
And more
As new versions of these diverse applications come to market with added features and capabilities that demand greater power densities, the need for next-generation coin cells capable of delivering new performance levels is escalating. Extended run time, improved discharge rates and longer shelf life are increasingly important considerations to consumers. Contour's Fluorinetic technology is delivering on each of these next-generation battery requirements.
The Fluorinetic Advantage
Contour's new coin cell product line features three primary advantages: greater run time, better discharge rates and longer shelf life compared to current lithium products. Contour's patented Fluorinetic technology leverages breakthrough lithium/carbon fluoride advancements to achieve these high energy and power densities. In addition, the advanced lithium/carbon-fluoride batteries overcome operational problems exhibited by some other lithium batteries, such as passivation, which has a significant voltage drop upon starting up a device.
Contour's advanced coin cells currently exceed all others tested in both power density and maximum safe current draw. This makes the Contour coin cell line particularly well suited for applications that require high sustained or pulse currents and greater durability.
---