Traceable® Conductivity/TDS/Salinity Meters
Product Announcement from Control Company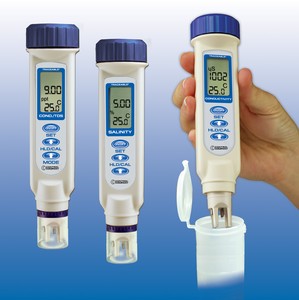 Traceable® Conductivity/TDS/Salinity Meters Complete Description
Three units provide for conductivity, conductivity/total dissolved solids, and salinity. Pens fulfill requirements for CAP, ASTM, NCCLS, CLSI, ACS, CLIA, AOAC, EPA, APHA, AWWA, WEF, USGS, USP, ISO, and Federal/State regulations.
Easy to use and waterproof
Simply turn on, insert, and simultaneously read result and temperature. Easiest unit ever designed for routine analysis and quality control. Elimination of operator technique permits everyone in the lab to report identical readings. Tough, chemical-resistant, waterproof ABS plastic housing assures a long life in severe lab or harsh plant environments. Large 1/2-inch-high LCD digits are easy to read. Dual display shows reading and temperature. HOLD button freezes the reading on the display.
Calibration using solution standards
Arrow keys allow fast setting to calibration standards. Calibration data is saved even when unit is turned off. Instant-response probe and solid-state thermistor provide precise readings. Temperature compensation permits readings to be automatically referenced to the international standard of 25°C or user may set a programmable temperature coefficient. To assure accuracy an individually serial-numbered Traceable® Certificate is provided from our ISO 17025 calibration laboratory accredited by A2LA. It indicates traceability to standards provided by NIST (National Institute of Standards and Technology). Waterproof unit is 6-1/2 x 1-2/5 x 1-1/4 inches, weight is 2-1/4 ounces.
Control Company Cat. No. 4365 Traceable® Conductivity Meter
Control Company Cat. No. 4366 Traceable® Conductivity/Total Dissolved Solids Meter
Control Company Cat. No. 4367 Traceable® Salinity Meter
---