New Air Filter Regulator Series with Auto Drain
Product Announcement from ControlAir Inc.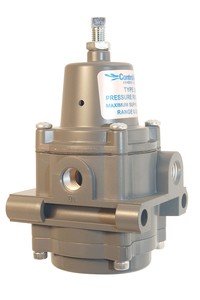 Designed for use in systems that require clean, accurate, instrument air. The Type-330 Air Filter Regulator provides pressure regulation and filtration in an integral compact package. It is now available in 1/4" NPT porting for normal operation and 1/2" NPT porting for high flow requirements. The new automatic drain option prevents moisture from being retained in the unit and being carried downstream. The new Type-340 Regulator was designed to provide accurate, constant control under variable flow rates and supply pressures. It is also available in both 1/4" and 1/2" NPT porting.
The Type-330/340 Series offers a choice of three output ranges that provide precision control up to 120 psig (8 BAR). Maximum supply pressure is 250 psig (17 BAR). Two 1/4" NPT gauge ports are included. The Type-330 offers an optional automatic float operated drain with 1/8" NPT connection for piping away waste liquid. The units can be pipe, bracket or through body mounted. ATEX 94/9/EC approval II G D is also available.
The Type-330/340 Series is designed to provide instrument quality air to valves, pneumatic controllers, transmitters, transducers, valve positioners, air cylinders, and a wide range of pneumatic control systems. Applications include oil and gas processing, both on and offshore; food; pulp and paper; pharmaceutical processing; pollution control; wastewater treatment and research projects.
---