ControlAir Acheives ISO 9001:2015 Certification
Featured Product from ControlAir LLC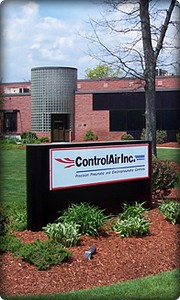 International Organization for Standardization (ISO) 9001:2015 is the most updated standard and focuses on key principles related to quality management and business processes to improve effectiveness and efficiency.As part of the ISO certification process, ControlAir participated in a rigorous audit of its product quality requirements, as well as its business and manufacturing processes. By meeting the extensive criteria of these standards, ControlAir affirms its commitment to ensure consistent and exceptional quality throughout their manufacturing operations. Additionally, ControlAir is committed to ensure customer satisfaction and strengthening performance by driving continuous improvements to meet the evolving needs of our customers.
The Certificate of Registration was issued by International Quality Registrars on February 9, 2018. The company previously earned certification under ISO 9001:2008 in 2010 and has been audited annually since 2013.
ControlAir Inc. manufactures precision pneumatic and electro-pneumatic controls. ControlAir's markets include laboratory research & analysis, oil & gas, robotics, diagnostic and surgical medical equipment, pharmaceutical, food & beverage, automotive, web tensioning, HVAC, and valve automation. For more information, ControlAir's website, www.controlair.com, offers full product specifications with PDF files, 3-D Interactive Catalogs, downloadable 3-D and 2-D CAD drawings, and company profile.