Filter Regulator for Oil & Natural Gas Fields
Featured Product from ControlAir LLC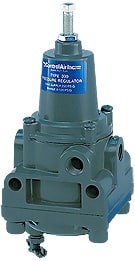 Air Filter Regulator Meets NACE Standards for Corrosive Environments
The conditions in the oil and natural gas fields can be outright hostile to many common materials as well as hazardous to personnel. This NACE unit features stainless steel trim and internal construction. All external hardware including fasteners, drain valve and adjusting stem as well the internal valve stem are constructed of stainless steel. The Type-310 NACE unit utilizes aluminum body construction which is an economical alternative to filter regulators of all stainless construction. However, this unit ensures that corrosion points of typical filter regulators (adjust stem, drain valve, assembly hardware) receive maximum resistance in demanding sour gas (H2S) environments.
Standard Features:
STABLE OUTPUT and REPEATABILITY - provides constant control under variable flow rates and supply pressures
LOW DROOP AT HIGH FLOW LEVELS - aspirator design helps maintain set pressure at higher flow levels
TIGHT SHUTOFF - a soft, rubberized valve provides a positive shutoff and compensates for dirt and other foreign matter
LOW AIR CONSUMPTION - decreases operating cost
TAPPED EXHAUST - allows remote venting media (fugitive emissions)
The Type-310 NACE Filter Regulator is designed specifically for use in corrosive sour gas (H2S) environments and provides instrument quality air to valves, pneumatic controllers, transmitters, transducers, valve positioners, air cylinders, and a wide range of pneumatic control systems. The Type-310 NACE is ideal for upstream oil and natural gas production applications as well as petrochemical processing. Other applications include food; pulp and paper; pharmaceutical processing; pollution control; wastewater treatment and research projects.
The Type-310 NACE Filter Regulator is available in 1/4" NPT porting. Output ranges include 0-30 psig, 0-60 psig and 0-100 psig. Maximum supply pressure is 250 psig. Standard mounting allows for pipe or through body. Temperature limits range from -20º F to 180º F (-29º C to 82º C). Flow capacity is 20 scfm at 100 psig supply with 20 psig output. Exhaust capacity is 0.1 scfm with downstream 5 psig above set point. Air consumption is less than 5 scfh. Effect of Supply Variation is less than 0.2 psig for 25 psig change.
Type 300 Instrument Air Filter Regulator Series
Clean, accurate air pressure under harsh conditions
The Type-300 Instrument Air Filter Regulator is designed to provide clean, accurate air pressure to instruments, valves, and other automatic control equipment. This filter regulator has been proven to provide accurate operating characteristics under variable conditions. Durable materials and a standard epoxy paint finish provide long lasting corrosion resistance in harsh industrial environments. The Type-300 is a quality unit that is ideal as an economical alternative for control of process applications.
The Type-310 NACE Filter Regulator incorporates all of the operating features of the Type-300 filter regulator, but is constructed of materials that meet NACE specification #MR-01-75 for sulfide stress cracking. Designed specifically for corrosive sour gas environments, the Type-310 NACE is ideal for oil field applications.
The Type-320 Filter unit is a 40-micron depth filter that removes dirt, moisture and other particles from air and gas lines. Robustly constructed of die-cast aluminum with a baked epoxy finish, this unit stands up in corrosive operating conditions. This filter is an economical alternative for air supply line applications that don't require a pressure reducing regulator.
Watch>>What We Do
ControlAir Inc. is Pleased to Announce Our Quality Certification Under ISO 9001:2015
ControlAir Inc.
ControlAir Inc. manufactures precision pneumatic and electro-pneumatic controls. ControlAir's markets include process control, semiconductor, printing and converting presses, diagnostic and surgical medical equipment, robotics, quality control, automotive, analyzers, compressors, pumps and paint equipment. For more information, ControlAir's website, www.controlair.com, offers full product specifications with PDF files, 3-D Interactive Catalogs, downloadable 3-D and 2-D CAD drawings, and company profile.