High Flow Capacity Volume Booster - Type 6100
Featured Product from ControlAir LLC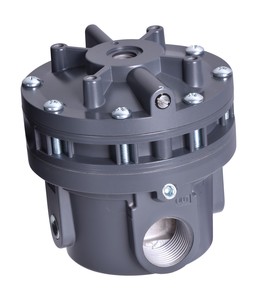 The Type 6100 Aluminum Volume Booster is a 1:1 signal to output relays that is utilized in applications that require high forward air flow and exhaust capacities. Typically they are used to increase throttling speed of large volume valve actuators. They are suitable for either diaphragm or piston actuators. A fixed deadband and adjustable bypass valve combine to allow small incremental downstream adjustment without opening the main booster valve. The bypass valve is used to adjust dynamic response to provide stable operation over a wide range of actuator sizes.
Features
• 1/4", 1/2" or 3/4" NPT Porting
• Integral Adjustable Bypass Valve Allows small incremental signal changes without opening the primary valve
• High Flow Capacity For rapid actuator stroking
• Soft Valve Seat Design Provides tight shutoff and eliminates leakage in steady state operation
• High Temperature Operation Up to 200°F (93°C)
• 2 High Output Exhaust Vents 1/4" NPT exhaust vents optional
• 2 1/4" NPT Gauge Ports
• Balanced Supply Valve Minimizes the effect of supply pressure variation
ControlAir's Precision Pressure Regulators, Filter Regulators, Volume Boosters and I/P Transducers help ensure precise pressure adjustment for instrumentation and process control in the oil and gas markets.
ControlAir products for the Oil & Gas markets
ControlAir is a worldwide leading manufacturer of precision pneumatic and electro pneumatic control products essential to automated industrial equipment, process control systems and instrumentation, laboratory research and analysis, energy management, fluid power, robotics, and valve automation applications. An ISO-9001:2015 registered quality system assures tightly controlled specifications and processes, resulting in dependable pneumatic controls.