High flow capacity and accurate pressure control
Featured Product from ControlAir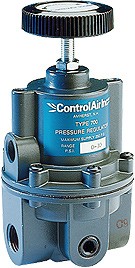 Watch>>>Air Pressure Regulators - I/P Transducers | Air Cylinders & Pneumatic Regulators | ControlAir, Inc.
Type 700 High Flow Pressure Regulator
High flow capacity and accurate pressure control
The Type 700 is designed for applications that require high flow capacity and accurate process control. A poppet valve which is balanced by utilizing a rolling diaphragm insures a constant output pressure even during wide supply pressure variations. Stability of regulated pressure is maintained under varying flow conditions through the use of an aspirator tube which adjusts the air supply in accordance with the flow velocity
Check out our free white paper on I/P transducers
Understand the difference between terminal and independent linearity, deadband, and hysterysis
Master installation and calibration procedures
Learn how to troubleshoot products in the field
and much more!
ControlAir Inc. is a leading manufacturer of precision air pressure regulators, I/P transducers, E/P transducers, P/I transducers, valve positioners, air relays, volume boosters, air filter regulators and frictionless diaphragm air cylinders.
ControlAir offers world-wide distribution for companies that demand excellent service and outstanding technical support for their compressed air pressure regulator applications.
Our ISO-9001 registered quality system assures tightly controlled specifications and processes, resulting in high performance, dependable pneumatic controls.
Our dedication to a streamlined manufacturing process assures customers of product availability and on-time delivery.
ControlAir specializes in joint development projects and strategic design partnerships - customizing our products to meet the specific needs of our customers. OEM inquiries encouraged.
Specialties
Precision Air Regulators, Transducers (I/P,E/P,P/I), Pneumatic Controls, Volume Boosters and Air Relays, Valve Positioners, Diaphragm Air Cylinders