Meets NACE Requirements for Corrosive Environments
Featured Product from ControlAir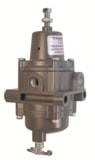 Air Filter Regulator Meets NACE Requirements
New Air Filter Regulator Meets NACE Requirements for Corrosive Environments
ControlAir Inc. is pleased to announce the Type-335 NACE Filter Regulator. This unit incorporates all of the operating features of ControlAir's Type-330 Filter Regulator, but is constructed of materials that meet NACE specification #MR-0175 for sulfide stress cracking.
Standard Features:
NACE COMPLIANT MATERIALS - all materials of construction meet NACE MR-0175 requirements for corrosive resistance
INTEGRAL THROUGH-BOLT MOUNTING - to most popular industrial valves
STABLE OUTPUT and REPEATABILITY - provides constant control under variable flow rates and supply pressures
LOW AIR CONSUMPTION - decreases operating cost
TAPPED EXHAUST - allows remote venting media (fugitive emissions)
1/4" NPT PORTING - 2 gauge ports
COMBINATION OF ALUMINUM BODY and STAINLESS STEEL TRIM - offers lower cost alternative to all stainless steel
VITON ELASTOMERS
The Type-335 NACE Filter Regulator is designed specifically for use in corrosive sour gas (H2S) environments and provides instrument quality air to valves, pneumatic controllers, transmitters, transducers, valve positioners, air cylinders, and a wide range of pneumatic control systems. The Type-335 NACE is ideal for oil and gas field applications . Other applications include petrochemical processing, both on and offshore; food; pulp and paper; pharmaceutical processing; pollution control; wastewater treatment and research projects.
The Type-335 NACE Filter Regulator is available in 1/4" NPT porting. Output ranges include 0-30 psig, 0-60 psig and 0-100 psig. Maximum supply pressure is 250 psig. Standard mounting allows for pipe, bracket or through body. Temperature limits range from -20º F to 180º F (-29º C to 82º C). Flow capacity is 20 scfm at 100 psig supply with 20 psig output. Exhaust capacity is 0.1 scfm with downstream 5 psig above set point. Air consumption is less than 5 scfh. Effect of Supply Variation is less than 0.2 psig for 25 psig change.
ControlAir
ControlAir is a worldwide leading manufacturer of precision pneumatic and electro pneumatic control products essential to automated industrial equipment, process control systems and instrumentation, laboratory research and analysis, energy management, fluid power, robotics, and valve automation applications. An ISO-9001:2015 registered quality system assures tightly controlled specifications and processes, resulting in dependable pneumatic controls.