Extreme Environments -- Linear Position Sensor
Product Announcement from Control Products, Inc.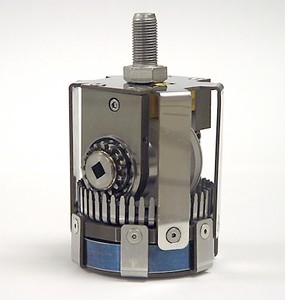 CPI's SL Series linear position sensors can be deployed in extremely harsh environments. Operating in temperatures up to 300F and pressures to 8,000 psi, these extreme sensors bring position sensing to applications where it was not previously possible. Comprised of stainless steel components and a proprietary combination of engineered materials allows for operation in a diverse variety of fluids / environments, including water-based hydraulic fluid. As with all SL Series sensors, high shock and vibration imunity come standard, and there is no core drilling of the piston rod in hydraulic cylinder applications.
SL Technology at a Glance:
Sensor resides completely inside of cylinder
No core drilling of rod required
Non-contacting Linear Variable Differential Transformer sensor technology
No end-of-stroke dead zone
No lower limit to cylinder bore size
Virtually immune to shock and vibration, regardless of stroke
One part can be used for any stroke length - simplified inventory
Hammer-proof high pressure electrical connection
The only internal sensor that can be used in telescoping cylinders
Easily integrated into high-volume hydraulic cylinder production
Can be easily mounted in piston accumulators
Stroke lengths to 15 feet
How it works
At the heart of the SL Series Sensor is a Linear Variable Differential Transformer (LVDT). Because LVDTs are non-contacting, submersible, and unaffected by pressure and temperature, they are ideal for hydraulic cylinder applications. And as a mature technology, LVDTs are well known throughout the industry for being reliable, accurate, and tough.
An integrated precision mechanism couples the long translation of the hydraulic cylinder to the short translation of the LVDT via a micrometer-like threaded element. The LVDT/micrometer assembly forms the axis of a recoil spool mechanism. The spool uses a flexible polymer-coated stainless steel cable to form a reliable, repeatable coupling between the piston and sensor. The cable is drawn off the recoil reel as the piston moves away from the sensor, and vice-versa. The entire unit is about the size of a large proximity sensor and mounts easily in hydraulic cylinders, accumulators, and any other harsh environment requiring linear displacement sensing.
---