Sealed Waterproof Switch Panels by CPI
Product Announcement from Control Products, Inc.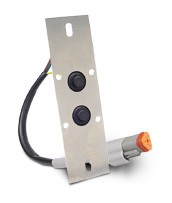 Waterproof ... truly submersible switch panels feature CPI's rugged snap-action switches mounted on standard and custom stainless steel face plates. Resistant to solvents, oils, salt spray, UV, temperature cycling, these panels are ideal for long-term outdoor exposure, and can be mounted where others simply will not survive.
CPI's Waterproof system is developed around a basic snap action contact mechanism. Using our basic switch as the starting point, we have designed a switch panel product line suited for a broad variety of applications.
GENERAL SPECIFICATIONS:
Electrical rating (28VDC/120VAC): 5 amps resistive, 3 amps inductive. Higher ratings available on special order. UL recognized for 120VAC/5 amp resistive rating.
Operating temperature ranges: -50°F to 221°F, depending on configuration.
Switch mechanism: Beryllium copper sine spring.
Environmental resistance: Excellent resistance to both high and low temperatures, acids, alkalies, salt spray, sand, dust and fungus.
Color: Black is standard. Other colors available on special order.
Available Jacket materials: Thermoplastic rubber, buna N, neoprene.
Special contacts: Silver is the standard contact material. CPI also offers several different options to meet the characteristics of dry circuits (low voltage), long (60 day) idle periods and harsh loads, such as in-rush current and inductive arc. Special alloys, contact spacing and precise sine blade calibration all contribute to meeting these requirements. Please contact CPI for details.
Special terminations: Special cables, wires, coil cords and connectors available.
APPLICATIONS:
Ideal for shipboard and general purpose marine applications, lift gates, food processing equipment controls, military vehicles, off-highway equipment, pendant switches, agricultural machinery, ground support equipment
---