Data Logger with 1 year access to data collection
Featured Product from Convergence Instruments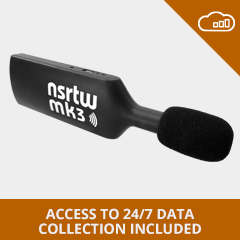 Wireless Sound Level Meter Data Logger (NSRTW_mk3)
with one year access to 24/7 Data Collection
The Wireless Sound Level Meter Data Logger NSRTW_mk3 is the third generation of Convergence Instrument's WiFi™ enabled smart integrating sound-level meters/dataloggers. It includes a digital MEMS microphone, an accurate date/time clock, a non-volatile 128 Mb recording memory and wireless connectivity.
Consult our NSRTW_mk3 detailed product page for features, specifications and more info about the product.
The Data Collection Service
24/7 data collection from instruments anywhere in the world
No need for a dedicated server for data collection or emails
Automatic alarm emails with no need to configure email account
Automatic instrument configuration through the web
Data can be downloaded via simple web browser from anywhere in the world
Data can be viewed at any time on any web browser, such as PC, MAC, phone… etc.
500 MB of storage space per instrument
Consult the Data Collection Tab on this for more info on our 24/7 Data Collection Service.
Why Convergence Instruments?
Our Sentry Series' data loggers feature high levels of measurement accuracy and flexibility, are extremely configurable, easy to use and share a common minimalist design philosophy.
We provide data acquisition for detection and analysis of temperature, humidity, motion, vibration and acoustic measurements.
Nearly all user-to-device interactions, including configuration, are via downloadable software (available free of charge from this site) with a convenient graphical user interface (GUI) and connection to a Windows® PC.