Smart vibration dataloger VSEW mk2 – 8g
Featured Product from Convergence Instruments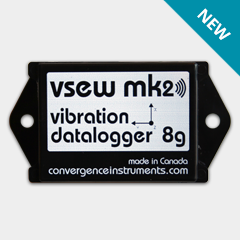 Wireless Vibration Meter Data Logger | VSEW mk2 – 8g
The Wireless Vibration Meter Data Logger – VSEW_mk2 – 8g is a new model in the VSE series of smart vibration datalogers. It can record accelerations, vibrations, velocities and inclinations. It includes a 3-axis MEMS accelerometer, an accurate date/time clock and a non-volatile 128 Mb recording memory. Depending on the settings it can record acceleration or velocity signals and/or RMS levels for months. Its very small size allows it to be attached to, or embedded within, the monitored equipment.
The Wireless Vibration Meter Data Logger – VSEW_mk2 – 8g model is an evolution of the Vibration Sentry E model.
The VSEW_mk2has the following new features:
Can measure, record and trigger on velocity signals, in addition to acceleration signals.
Has WiFi reporting and email alarms.
Includes an accelerometer with exceptional noise floor (20 times better noise floor than the Vibration Sentry E – 16g).
Sampling rates up to 4 kHz.
Improved anti-aliasing filter.
The VSEW_mk2 vibration meter data logger is ideal to monitor very low vibration levels, such as ground tremors and floor vibrations.
VSEW_mk2Applications
Building-health monitoring on construction sites.
Long-term seismic monitoring.
Long-term inclination monitoring.
Long-term measurement and recording of acceleration signals, velocity signals, signal statistics (peaks and average) and RMS levels.
Continuous monitoring of machinery wear.
New wireless vibration meter represents explosion of capabilities
When a client seeking vibration meters for a confidential project came to AV-Consulting, a Netherlands-based noise and vibration specialist, the new VSEW mk2 – 8g from Convergence Instruments proved to be an ideal choice.
The client's goal, to measure the ground shock of buried explosive devices, called for a robust meter that could withstand shock while measuring and recording both velocity and acceleration signals. Also necessary was the meter's ability to record continuously, or to wake up and record only when a certain vibration threshold was met. Additionally, the scope of the project required a quantity of 10 meters placed at varying distances from the underground explosives; this made affordability — without sacrifices in quality — a prime concern.
Prior to making actual measurements, it was important to determine whether either of two potential meter mounting methods would result in a significant result offset. The meters were screwed into wooden plates and spiked into the ground, and they were also simply laid down on the ground and covered with soil. Both approaches proved viable for the client's research, with the latter offering improved efficiency without a loss in accuracy.
While this project represented a temporary deployment of the VSEW mk2, the meter is designed for long-term applications as well. In Toronto, for example, the device is used for structural integrity monitoring of underground pipes; the challenges of an unforgiving wet soil environment are minimized by a long-lasting instrument that does not require periodic unearthing.
Both projects illustrate the way in which equipment from Convergence Instruments is made to be accurate, rugged and affordable: three primary qualities that guide the company's design philosophy.
Moreover, the VSEW mk2 – 8g is well-suited for monitoring structural integrity in a wide range of construction and demolition environments. Its high sensitivity can monitor very low vibration levels, such as floor vibrations or ground tremors, and alert construction managers to the potential for damage to neighboring buildings. Its small size allows it to be attached to or embedded within equipment being monitored, where it can record signals for months. It also offers Wi-Fi reporting and email alarm capabilities, and an IP57 rating for water and dust protection.
The meter brings several other new features to the Convergence Instruments VSE series of smart vibration data loggers, including an accelerometer with a noise floor that is a twenty-fold improvement over the Vibration Sentry E – 16g.
Use the Cloud for Continuous Long-Term Noise Monitoring
The cloud now empowers the data reporting and management needs of datalogger users, thanks to Convergence Instrument's (CI) Cloud-Data-Solutions. The service enables all of CI's Wi-Fi-enabled dataloggers to report captured data straight to the cloud and offers multiple datalogger benefits for customers. Users can access recorded data from anywhere in the world at any time using a simple web browser, and receive email alerts when sound or vibration levels have passed predetermined thresholds...more...
Why Convergence Instruments?
Our Sentry Series' data loggers feature high levels of measurement accuracy and flexibility, are extremely configurable, easy to use and share a common minimalist design philosophy.
We provide data acquisition for detection and analysis of temperature, humidity, motion, vibration and acoustic measurements.
Nearly all user-to-device interactions, including configuration, are via downloadable software (available free of charge from this site) with a convenient graphical user interface (GUI) and connection to a Windows® PC.