USB Solar Panel
Featured Product from Convergence Instruments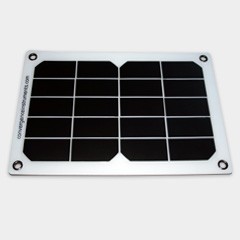 Data Logger Accessories | SP 002 USB Solar Panel
This SP 002 USB Solar Panel allows indefinite operation of the Noise Sentry RT and Noise Sentry RT-W instruments, even in prolonged overcast conditions. Its output voltage is always safe for these instruments.
After extensive testing of many USB output solar panels we selected the SP 002 as a perfect match for our Noise Sentry RT and Noise Sentry RT-W.
NOTE: In order to work properly with USB output solar panels, including the SP 002, the Noise Sentry RT needs at least firmware revision 1.5. The Noise Sentry RT-W needs at least firmware revision 1.4. If unsure, install the latest version of the Noise Sentry RT Manager, or Noise Sentry RTW Manager application, depending on the instrument.
For customers who wish to use untested USB output solar panels with our instruments, we strongly recommend the use of our USB Charge Conditioner.
Use the Cloud for Continuous Long-Term Noise Monitoring
The cloud now empowers the data reporting and management needs of datalogger users, thanks to Convergence Instrument's (CI) Cloud-Data-Solutions. The service enables all of CI's Wi-Fi-enabled dataloggers to report captured data straight to the cloud and offers multiple datalogger benefits for customers. Users can access recorded data from anywhere in the world at any time using a simple web browser, and receive email alerts when sound or vibration levels have passed predetermined thresholds...more...
Why Convergence Instruments?
Our Sentry Series' data loggers feature high levels of measurement accuracy and flexibility, are extremely configurable, easy to use and share a common minimalist design philosophy.
We provide data acquisition for detection and analysis of temperature, humidity, motion, vibration and acoustic measurements.
Nearly all user-to-device interactions, including configuration, are via downloadable software (available free of charge from this site) with a convenient graphical user interface (GUI) and connection to a Windows® PC.