What can you do with our Cloud Data Solutions?
Featured Product from Convergence Instruments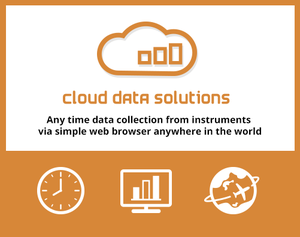 msA Cloud Data Solutions Service for Dataloggers
Convergence Instruments (CI) is a global designer and producer of affordable, high-performance solutions for data acquisition and analysis. CI focuses on small-yet-powerful data loggers with embedded acoustic measurement, motion sensors and vibration measurement capabilities for consumers as well as commercial and professional OEM markets.
Cloud Data Solutions
An easy way to:
View noise and vibration recorded data, using a personal computer or a mobile device from anywhere in the world and at any time. This Web solution is part of the IoT (Internet of Things) world.
The CIDataSolutions™ Web Application works in synergy with Convergence Instruments' WiFi™ connected instruments, Instrument Manager software and Convergence Instruments' website, to ease the installation and configuration procedures of instruments, and allow the management of recorded data over the internet.
The CIDataSolutions™ Web Application is a joint property of Convergence Instruments and Trovema Technologies
What can you do with our Cloud Data Solutions
Manage your instruments and their recorded data (wlg) files.
View your recorded data in a graphical way:

View sound levels or vibration levels or signals for a specific period of time of your choice.
View instrument temperature over time.
View instrument battery voltage over time.

Capture your resulting graphics in jpeg format and join them to your reports.
Receive Alarm e-mails from your instruments when sound level, acceleration or velocity levels pass a threshold, or when the instrument's battery falls below its critical voltage.
The demo account provides a limited demonstration of the cloud service. That account is connected to an NSRTW_mk2 recording 24/7 and reporting every 10 minutes. The data can be viewed, and downloaded at any time. The downloaded data can be further processed by using any of the tools, under «Software Section» of all WiFi™ connected instruments provided by Convergence Instruments.

Account Credentials:
Username: Customer
Password: **CIDS1234**
Why Convergence Instruments?
Our Sentry Series' data loggers feature high levels of measurement accuracy and flexibility, are extremely configurable, easy to use and share a common minimalist design philosophy.
We provide data acquisition for detection and analysis of temperature, humidity, motion, vibration and acoustic measurements.
Nearly all user-to-device interactions, including configuration, are via downloadable software (available free of charge from this site) with a convenient graphical user interface (GUI) and connection to a Windows® PC.