CMP6050 Control System
Product Announcement from Conviron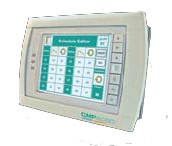 The CMP6050 is the most advanced control system developed by Conviron. Configured to your chamber specifications from the factory, the CMP6050 offers a wide array of set-up, control and alarm features to fine tune the configuration to your specific requirements. The scalability of the CMP6050 accommodates additional input/output ports should your research require additional sensors.
Despite its powerful set of features and capabilities, the CMP6050 was developed with a very intuitive interface. The high-resolution touch screen allows for easy navigation where users can view data, graphs and settings directly on the screen. Features include:
Automatic logging of main chamber variables such as temperature, humidity, lighting and CO2, with up to five days of history
Dashboard' display - a default 'status' screen for set-point and actual conditions
Trend graphs viewed directly on screen for both set-point and actual conditions
Ramped or stepped multi set-point functionality
Color-coded alarms displayed directly on the screen for quick identification and resolution
The power of the CMP6050 is further extended with its data management feature. Within the CMP6050 is a storage device that automatically records all input/output parameter every 18 seconds. This high resolution data can be accessed in several ways including:
A network-connected PC
An internet-enabled PC
A Conviron Memory Module™; or
Conviron's Central Management™ system
The data can then be exported to an application such as MS Excel™.
---