Conviron Growth House™ - big rooms, big results
Product Announcement from Conviron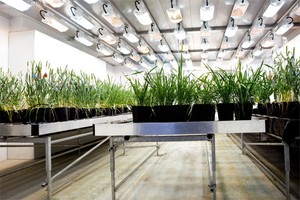 Conviron continues to lead the industry with innovative solutions in controlled environment systems. For applications that require the large capacity of a greenhouse with the precision of a growth chamber, we now offer our new Conviron Growth HouseTM. Amalgamating select features of our walk-in rooms and research greenhouse, our new Conviron Growth HouseTM provides a large capacity in a single room and is available in many size configurations. Distinguishing characteristics include:
Space efficiency - rolling benches, large footprint, variable size & dimensional configurations

Lighting - various lighting configurations including high intensity discharge (HID)

Tight environmental control - similar to that of our standard walk-in rooms

Security - insulated panel walls with no visual exposure from the outside, such as with a greenhouse, and no light pollution

Configurable options and customization - uniquely designed to the client's specifications

To maximize floor space and reduce plant handling and maintenance, units can be equipped with a plant conveyor system. For highly specialized phenotyping applications, imaging and high-throughput screening systems can be integrated. Options also exist for lighting, construction method, refrigeration, additive CO2, and numerous other design elements.
Involve us in the early planning stages and let us tailor a solution specifc to your unique requirements.
Conviron - assisting our clients at every stage of the project and indefinitely thereafter.
---