Conviron Research Greenhouse
Product Announcement from Conviron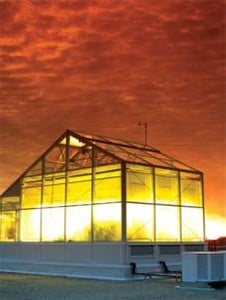 Conviron Research Greenhouses provide unparalleled environmental performance in the control of temperature, humidity, air velocity and light intensity and are designed specifically for research applications. Engineered to minimize operational maintenance, our greenhouses offer expanded research flexibility, year-round functionality and accurate replication of environmental conditions.
Developed in collaboration with world-leading plant scientists, our team has delivered some of the most sophisticated and highest performing research greenhouses on the market. Simply stated, our greenhouses answer the need for tightly sealed, air-conditioned greenhouses with accurate and uniform environmental control.
Today, a greenhouse project typically involves architects, engineers, consultants, contractors and a multitude of component suppliers. The process is complicated and multi-disciplinary. Conviron offers a range of solutions from supplying discreet elements to providing complete turn-key solutions. Our greenhouse team works with you and your team throughout the design, manufacturing and installation of your greenhouse. Following installation, our personnel are available to start-up, test, commission, and train your staff in the proper operation and on-going maintenance of the facility. This approach assures you of a facility that meets your needs throughout its operational life.
---