Custom Plant Growth Chambers
Product Announcement from Conviron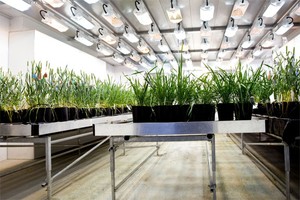 While Conviron offers an extensive range of standard products and configurable options, we recognize that this portfolio may not always provide an appropriate solution for a researcher's particular needs. Where a standard design does not adequately address a client's requirements, Conviron will develop a custom solution. Designs are carefully assessed to ensure they connect seamlessly and efficiently to new and/or existing building services, taking into account any site constraints that may exist.
Whether your project requires multiple complex chambers or only a single chamber designed for one specific research application, we have the expertise for all stages of the project. Our in-house team of specially trained engineers and technologists, together with our controls experts, have created high performance environments to satisfy a vast range of applications in such disciplines as:
product testing
material testing
human physiological testing
high value storage
plant sciences, and
other life sciences applications
Much of Conviron's success can be attributed to the fact that we have worked closely with researchers on every continent to ensure that the products we design and manufacture meet their specific needs. Scientists, researchers and facility personnel rely on our expertise in assisting to identify what they require to make their programs successful. This collaborative process begins with fully understanding your product requirements, site integration challenges and on-going service and support expectations. At Conviron, we believe that by gaining a greater appreciation of our clients' research and material handling requirements, we can ensure that your expectations will be met.
Given the unique requirements of such installations, we suggest you consult directly with Conviron as early in your development plans as possible. As a starting point, we offer a Project Questionnaire to assist with early-stage discussions.
---