Industrial Test and Storage
Product Announcement from Conviron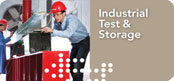 Targeted for applications that require high-performance environmental control, we have supplied industrial test and storage rooms for nearly every conceivable application in nearly every industry sector.
Fundamental to our business model are the services we offer, which encompass every stage of your project from the initial design stages through to on-going service and maintenance. The Conviron Process entails working closely with you to fully understand your project requirements, site integration challenges and on-going service and support expectations. We then engineer a product solution uniquely designed for your particular application. Following this is a design review with you to highlight key features and installation requirements. The end result is a product solution that meets your performance requirements and complies with UL/CSA safety standards.
Environmental rooms used for industrial test and storage are typically based on one of our walk-in model designs. Starting with a base model specification, our engineering design group combines pre-configured options and/or custom modifications to achieve the capabilities required by the client. In some cases, requirements may demand a one-of-a-kind feature or capability entirely unique to a specific application in which case Conviron can deliver a complete and innovative custom package designed, supplied and installed entirely by Conviron.
Regardless of how unique your application is, Conviron has the capabilities to transform your concepts into reality.
Following are the general categories of products we provide in the industrial sectors. Given the unique requirements of such installations, we suggest you consult directly with Conviron as early in your development plans as possible. As a starting point, we offer a Project Questionnaire to assist with early-stage discussions.
---