Multi-Purpose Reach-In Incubator / Germinator
Product Announcement from Conviron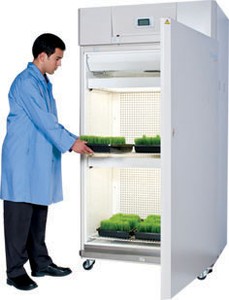 With its unique ability to adapt to four different research applications, the Adaptis A1000 offers an economical and flexible equipment platform.
The base chamber itself can be fitted with one of four specially configured kits, and each kit is specifically designed for a particular application including: Plant Growth, Arabidopsis, Tissue Culture, and Incubation.
By varying the configuration of the airflow, light, and shelving, each kit defines one of the four applications.
The A1000 is also available with several options such as phenolic coated coils and network communication.
The phenolic coated coils enable the A1000 to be used for entomology research while the communications option facilitates connection to a facility's local area network.
Click here for additional information including a detailed data sheet and specifications.
---