Plant Growth Rooms at University College Dublin
Product Announcement from Conviron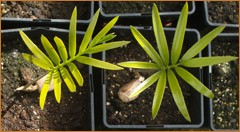 Péac means "to sprout" in Gaelic, and that's exactly what the Program for Experimental Atmospheres and Climate, or Péac, facility was designed for-to grow living fossils and study how they are impacted by the atmosphere around them.
Located at the University College Dublin (UCD), in Ireland, Péac is the realization of Jennifer McElwain's vision. McElwain is director of UCD's Plant Palaeoecology and Palaeobiology research group. She collaborated with Conviron before the Péac project-having used Conviron's plant growth chambers on a smaller scale in her previous position with the Field Museum of Natural History at the University of Chicago in the United States, and in her original UCD laboratory.
McElwain's research is quite unique. She controls oxygen (O2), sulphur dioxide (SO2) and carbon dioxide (CO2) within plant growth chambers, mimicking atmospheres from up to 400 million years ago and observing how prehistoric plant growth was affected over time. "There were very few companies who were willing to try to control atmospheric oxygen in a growth room environment," McElwain says. "Conviron was the only company willing to prototype that equipment and do everything possible to get it working really well."
When UCD sold the land that McElwain's laboratory was built on, McElwain was faced with the challenge of finding a new location for her laboratory, having a new structure designed to her specifications, and moving her plant growth chambers to the new location without disrupting an in-progress experiment.
Collaboration
At the time, McElwain's lab had six plant growth rooms, which were completely sealed between the floor and ceiling so she could effectively control the atmospheric gases used in her experiments.

"Because they had been constructed that way, it meant losing some of the original parts," McElwain says. "There was a certain amount of coordination of the whole project, anticipating the parts that wouldn't work and ordering those in advance, as well as the mechanics of actually moving the equipment, getting it rebuilt, retested and fully commissioned in the new facility."
Conviron helped to make the move go smoothly, assisting with everything from the disassembly of the equipment to physically moving it to the new location and calibrating it to McElwain's exacting specifications. Doing so while maintaining the integrity of a running experiment was a challenge, but one that was successfully accomplished.
"Conviron decommissioned chambers around the experiment and then reinstalled chambers in the new lab so the experiment could be moved in a day," McElwain says.
Result
The entire process took two years from start to finish, but McElwain could not be more pleased with her new laboratory or with her experience with Conviron.
"I'm very happy with how it turned out," she says. "Conviron has always been willing to test out my ideas and offer possible solutions."
The Péac facility is a windowless, steel structure that houses eight Conviron BDW40 walk-in growth rooms. Each room measures 2.4 m in height with an area of 3.7 m2, and has the ability to control atmospheric CO2 (380 to 2,000 ppmV), O2 (nine to 21 per cent) and SO2 (200 to 2,000 ppbV), to within 10ppmV, 0.1 per cent and 100 ppb of their respective set points. Temperature (-5 to 40 C), relative humidity (35 to 90 per cent), light intensity (300 to 1,000 μmol) and photoperiod can also be controlled within strict set points.
With new experiments on the horizon, this world-class facility is helping researchers like McElwain make advances that not only bring understanding to past atmospheric events, but bring awareness to what may come in the future.
---