Stretching Your R&D Budget
Product Announcement from Conviron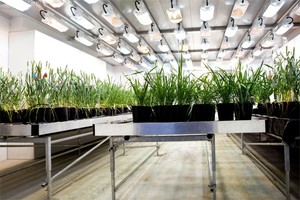 Mark Loewen is the Vice President of Marketing & Business Development for Conviron, a global supplier of controlled environment systems including reach-in chambers, walk-in rooms, and research greenhouses. Conviron products are used primarily in the plant science industry, an industry focused on addressing the issue of global food shortages and affordable access to nutrition. We recently caught up with Mark to get his input on key issues facing the industry.
Cdn Biotechnology:
Mark, we recently published an article on Conviron that spoke to the challenge of feeding the world's growing population. Tell us about some of the key issues facing your industry.
M. Loewen:
Due to current economic uncertainties, our clients - which generally include seed and agrochemical companies - are looking for ways to maximize their R&D budgets. While they still demand the latest and greatest technological advancements, they are also looking for cost effective investments in lab equipment that enable them to do more with less. As an industry leader, Conviron is keenly aware of this dichotomy and we constantly look for ways to address these concerns.
Cdn Biotechnology:
Can you elaborate on some of the ways scientists can stretch their R&D dollars?
M. Loewen:
Our efforts in this area actually started years ago. But recently, in 2008, we launched a new product called the Adaptis™ reach-in chamber. This 1000 litre chamber was a product line extension for us and the product contained some unique characteristics that made it a cost effective solution. First, it was designed as a 4-in-1 chamber. With a single chamber, you could adapt it for use as a plant growth chamber, or as an Arabidopsis, tissue culture or incubator chamber. Conversions between applications were made by changing out the appropriate application kit - each one using the same chamber. Secondly, the chamber was designed with a standard set of features and capabilities and was non configurable. This allowed us to manufacture it to inventory which helped to reduce costs. The market has really embraced the Adaptis as an outstanding entry level chamber.
Cdn Biotechnology:
That's interesting. Have you been able to leverage this adaptability feature to other products?
M. Loewen:
Actually yes we have. Recognizing the market's affinity for a multi-application chamber, we extended the concept to our larger 20 ft2 reach-in chamber, the PGC-20 platform. Aptly named the PGC-FLEX, this chamber can be used in one of two configurations - an upward airflow, single-tier plant growth chamber or a horizontal airflow, multi-tier chamber. Again the conversion is simple and can easily be accomplished in the field in a short period of time. And, as with the Adaptis, it offers a wider array of experiment applications without having to buy multiple chambers.
Cdn Biotechnology:
These are great examples of really taking the initiative to address budgetary constraints in today's economy.
M. Loewen:
Well we think they are, and the market seems to concur. On a larger scale, we are also a provider of research greenhouses. However, we now offer a product to supplement our large-footprint offering - the Conviron Growth House™. This is a walk-in room that blends the capacity of a greenhouse with the precision of a growth chamber. For the marketplace, it offers another option and in some cases an alternative to a greenhouse. The Growth House is available with lighting and plant benching systems similar to that of a greenhouse and it addresses the issues of climatic suitability, external visibility and light pollution inherent in a greenhouse. And with Growth House sizes in the thousands of square feet possible with a single room, space efficiency is maximized.
Cdn Biotechnology:
So Conviron has really taken to heart the notion of budget constraints and stretching the elusive R&D dollar by maximizing the value proposition through product design.
M. Loewen:
That's right. And our focus is not only on design features that enhance the product's application but also the equipment's operating costs. This is currently an area of focus for us where we are working on ways to decrease the product's power consumption without negatively impacting the operating characteristics. As a technology integrator, we continuously look for technologies that we can adopt to enhance our products. Ultimately, it's what helps to distinguish Conviron while providing a strong value proposition for the marketplace. It also helps to keep our engineers captivated and energetic because these are exciting projects. And so for us, it's a win-win situation - the marketplace values our ever-evolving products and capabilities and our in-house teams love what they do.
For more information on Conviron please visit:
www.conviron.com
---