Multiconductor Cable
Featured Product from Cooner Wire Company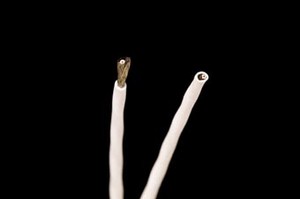 Extra flexible multiconductor cable is available "off the shelf" from Cooner Wire in a variety of materials, colors and constructions. Our specialty wire and cable inventory offers a vast array of flexible wire, shielded cable, miniature cable, medical cable, silicone cable, pvc cable, high temperature cable, flexible control cable and instrumentation wire, as well as complex cable and hybrid cable designs. Utilizing fine wire stranding, fine wire shielding and thin wall extrusion technology Cooner Wire's multiconductor cable provides superior flexibility and extended flex life in a small, lightweight and durable cable package. With over 100,000 specialty wire and cable items in stock, Cooner Wire remains the first choice for major custom cable applications in the medical, military, robotic, industrial, and life science industries.
Applications:
Endoscopy
Scanning Probes
Lapping Equip.
Optics Equip.
Pick & Place Equip
Transducers
Industries:
Sensor
Medical
Semiconductor
Defense
Aerospace
Test & Measurement
About Us
Formed by John Cooner in 1957 under the name of Service Cable and Wire with focus on specialty molded electrical cord sets and sales of fine and ultra-fine wire and cable constructions, Cooner Wire continues to excel world wide, as a premier supplier of high technology specialty wire, cable and cable assemblies.
Long term employees Patrick Weir and Steven Smith purchased Cooner Wire from the Cooner family in 1983 and continued to follow the successful direction of John Cooner in maintaining focus on the high technology, specialty wire and cable market. In 1984, Cooner Wire Interconnect Division was expanded and manufacturing was moved to Mexico.
As a pacesetter in the definitive specialty wire and cable industry, Cooner Wire has relied upon its continuing years of experience to help assist and solve complex electronic problems with their resource of experienced personnel. Cooner Wire continues to maintain worldwide recognition as the "go to" company for specialty wire and cable, and cable assembly products.
While Southern California remains the headquarter location for Cooner Wire Company, offices in New Hampshire, China, Japan, Israel, and Mexico are maintained in order to better serve the needs of customers in those immediate areas.