PolySurg™ Suppressors for Data Circuit Protection
Product Announcement from Cooper Bussmann, Inc.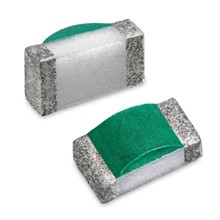 The second generation PolySurg™ 0603ESDA2-TR2 ESD Suppressors protect valuable high-speed data circuits from ESD damage without distorting data signals as a result of its ultra-low (0.15pF maximum) capacitance.
Features:
Lead free, halogen free materials
0603/1608 footprint surface mount device
Ideal ESD protection for high frequency, low voltage applications.
Exceeds testing requirements of IEC 61000-4-2
Very low leakage current
Ultra low capacitance (0.15pF maximum)
Fast response time
Bi-directional
Click here for additional information including data sheet and product details.
---