DFI 2000 - Portable Force/Torque Digital Indicator
Product Announcement from Cooper Instruments & Systems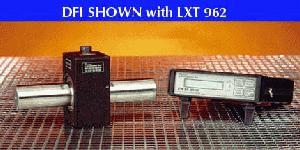 The DFI 2000 is a process monitor and controller designed to work with a variety of sensors including: Force, torque, pressure or displacement. This unit is capable of capturing and storing multiple peaks and high speed recording of measurement profiles vs. Time. Also optional simultaneous Angle or RPM measurements may be recorded. The DFI 2000 has multiple sampling rates from 1 Hz to 10 KHz and storage for up to 8,000 data points. There are 3 process control output signals, high, low, and target occurrences. Cooper also offers an optional personality module, which allows the indicator to calibrate itself to the transducer. The DFI 2000 comes standard with rechargeable Ni-Cad batteries and optional user interface software.
-3 PEAK FUNCTIONS
-SELECTABLE ENGINEERING UNITS
-RS 232 OUTPUT
-3 PROCESS CONTROL OUTPUT FEATURES
-RECHARGEABLE NI-CAD BATTERIES
SPECIFICATIONS:
GENERAL-
CHANNELS: 1
TEMPERATURE (Operating): 32° to 132° F
MATERIAL: Aluminum
POWER REQUIRED: 110 Vac. Rechargeable 9.6V Ni-Cad Batteries
PEAK HOLD: 3 Peak Functions RS232: Standard
LIMIT FUNCTIONS: 3 Points, Hi, Lo, Target
AMPLIFIER-
ANALOG OUTPUT: Up to 2.4 Vdc (1 Vdc @ 2 mv/v)
ACCURACY: 0.05% F.S.
SAMPLING RATE: 4 kHz - Track Mode 5 kHz - Peak Mode Up to 10 kHz-Record Mode
PHYSICAL-
WEIGHT: 2.5 LBS lb
DIMENSIONS: 1.75"W x 6"H x 8"D
TRANDUCER-
EXCITATION: 7 Vdc
INPUTS ACCEPTED: ±4.5 mv/v
CALIBRATION METHOD: Front Key Pad, Software, Personality Module
BRIDGE RESISTANCE: 120 ohm (min.)
DIGITAL DISPLAY-
DISPLAY: 4 Digits (5 w/o Decimal)
DISPLAY UPDATE: 4 Per Second (Track Mode)
MAXIMUM DISPLAY: 99999
POLAR INDICATIONS: Yes
DISPLAY SIZE: 0.25" High
TYPE: LCD
---