Paper Thin Sensor- ELF 4200 Flexiforce
Product Announcement from Cooper Instruments & Systems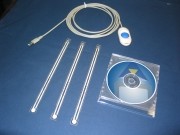 The ELF 4200 uses a paper thin force sensors, which are designed to be used in applications between surfaces too closely spaced for conventional load cells. The flexiforce system comes complete with a module that plugs into the serial port on the PC, and easy to use software, which allows you to calibrate the system to any of 3 included sensors. The 3 sensors come in ranges of 1 to 25 lbs, 25 to 150 lbs and 150 to 1000 lbs. The sensors may be calibrated via the software for the exact range you need. The ability to apply a known load during calibration will greatly increase the accuracy of the system. The software provides the user with digital and analog readouts, plus a strip chart and bar graph display. The software allows the user to collect, record and play back data. The software is Windows 95/98/ME/2000/XP compatible.
paper thin
economical
plugs into existing serial port
software included CLICK HERE for pricing information.
---