Pressure Gages
Product Announcement from Cooper Instruments & Systems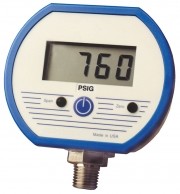 A digital pressure gage incorporates a pressure transducer with a digital display to comprise an easy to use pressure measurement system. We have a variety of gages with accuracies ranging from 1% to 0.05% full scale. Some of our gages offer control functions with high/low limit settings as well as analog output.
DPG 100 Digital Pressure Test Gage The DPG 100 Digital Pressure Test Gage is manufactured using solid state sensor technology. This allows for all the ease of use of a dial gage and all the accuracy and ruggedness of a pressure transducer. The bright and easy to read digital display is 4 digits and 3/8" high. Conveniently located on the front face are; zero, peak/ valley and on/off buttons. Battery powered version or AC Adaptor versions are available. Automatic shut-off saves battery life on battery version. Various pressure adapters may be purchased.
gage, absolute, differential or vacuum
high over pressure rating
peak & valley hold
automatic shut-off
intrinsically safe units available
DPG 1000B Digital Pressure Gage The DPG 1000B is a +/-0.25% accuracy pressure gage with an optional +/-0.1% accuracy. The display offers a standard 3-1/2 digits and is 0.5" high. The DPG 1000B has an update rate of 3 readings per second. This gage features a front push button on/off and front access potentiometer, non-interactive zero and span, +/- 10% range. Auto shutoff is factory settable to 5, 10 and 30 minutes. Options include: backlighting and 4 digit display.
ranges from -30 inHg to 5,000 PSI
+/- 0.25% accuracy
316 stainless steel wetted parts
battery life up to 2500 hours
pressure, vacuum, absolute or compound
---