High Form Crucible Chemical-Porcelain 50mL Cap.
Product Announcement from CoorsTek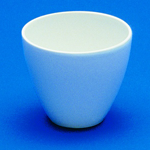 Visit CoorsTek's on-line store offering direct sales of their legacy ceramic labware products, such as the high form crucible chemical-porcelain, glazed inside and out, except for outside bottom surface and rim, 50 mL capacity, 24 parts per case. Catalog #: 60109.
The site enhances customer convenience with on-line, 24-7 ordering, enables factory-direct orders from the manufacturing plant in Golden, Colorado, and saves customers 10% off list price for porcelain labware.
In continuous production for nearly 100 years, CoorsTek porcelain labware has become an iconic staple in laboratories worldwide. Preferred by researchers for its consistent chemistry, known handling properties, and reliable durability, CoorsTek porcelain labware yields trusted and dependable results.
To order porcelain labware, please visit http://labware.coorstek.com or call the Labware Order Line at 303-277-4038.
More about CoorsTek
Established in 1910, CoorsTek is the largest technical ceramics manufacturer in the world with over 40 facilities in the Americas, Europe, and Asia. CoorsTek supplies critical components and complete assemblies for defense, medical, automotive, semiconductor, aerospace, electronic, power generation, telecommunication, and other high-technology applications. Utilizing advanced material technologies, the company's engineered solutions enable its customers' products to overcome technological barriers and improve performance. For more information about CoorsTek, please visit the Company's website at http://www.coorstek.com.
---