Only IR Camera You'll Ever Need In Hazardous Areas
Product Announcement from CorDEX Instruments Inc.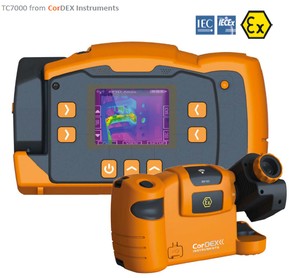 CorDEX has done it again! Revolutionizing the IR Camera market with the TC7000, providing thermography in hazardous/explosive areas. The TC7000 is the only intrinsically safe radiometric thermal imaging camera that is ATEX & IECEx certified. This camera is the safest imaging choice for the Oil & Gas, Mining & hazardous dust environments where safety cannot be compromised. Request the TC7000 brochure.
If you work in the petrochemical industry you will already be aware of the Zone 1 hazardous areas in your workplace and the restrictions on uncertified instruments. Within those areas you will want to regularly use the TC7000 by CorDEX to scan for hotspots in:
» Refractory lining – crackers, heaters
» Pipe insulation, missing or damage
» Steam traps
» Electrical systems and switchgear
» Flares
» Tank insulation and level
» Motor bearings, gearboxes, electrical connections, shaft misalignment
» Pipe trace heating and missing or degraded insulation
There are many other industries with hazardous (explosive) areas and if you belong to one of these, you already understand the importance of safety of hazardous areas during IR inspections:
» Explosive dust environment in sugar, grain, chemical, foodstuff industry
» Mining industry, coal, ore, precious metals
» Marine, all LNG and other petrochemical carriers
» Pharmaceutical – dust and inflammable vapours
» Aerospace – presence of jet fuel
» Water and sewage processing – methane presence
Cut out the risks and delays of a hot work permit by including safety and compliance using the CorDEX TC7000 IR camera with intrinsically safe certification. Find out more about the TC7000 from CorDEX Instruments. Contact CorDEX today!
---