DC Rated Oil Filled Capacitors
Featured Product from Cornell Dubilier Electronics, Inc.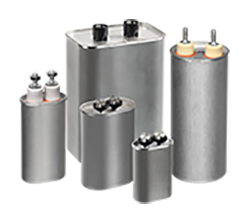 As one of the few remaining manufacturers of DC rated oil filled capacitors, we continue to design robust paper and film combination dielectrics for high performance power conversion and power supply applications. This includes a wide range of oil impregnated DC rated capacitors for filtering, pulse and snubber applications. Naturally, we use environmentally friendly fluids engineered to provide the highest performance and long life.
Protected: Pressure sensitive interrupter
Good for DC and 60 Hz AC applications
As the largest power capacitor company in North America, we offer one of the world's largest selection of aluminum electrolytic capacitors, mica capacitors, AC film capacitors, and DC film capacitors. We're also the only U.S. manufacturer of high quality mica capacitors.