HID Lighting Capacitors - Type SF
Featured Product from Cornell Dubilier Electronics, Inc.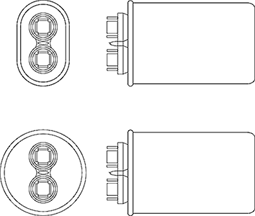 For better performance in HID Lighting and HV Ballasts, Type SF oval and round oil filled metallized polypropylene lighting capacitors are built for operating in the high temperature environments for high intensity discharge (HID) lighting and other high voltage ballast applications. Each HID catalog capacitor includes an external resistor that discharges the capacitor to less than 50V in one minute, and the oil filled process assures better reliability than dry capacitors.
- Casing: aluminum
- Paint: (U. L. recognized) optional
- Meets EIA Standard EIA-456-A
As the largest power capacitor company in North America, we offer one of the world's largest selection of aluminum electrolytic capacitors, mica capacitors, AC film capacitors, and DC film capacitors. We're also the only U.S. manufacturer of high quality mica capacitors.